With skates hitting the ice in rinks around the league, it really does look like it's hockey time! Here at CRC/HQ, we are finally caught up on your emails so if you haven't heard back, please resend it. We are so grateful for the outpouring of interest this season. It was quite unexpected but welcome.

Here is the list of destinations that came together and the current status. All are ticket-only at this time, but the Pennsylvania pair of games may add transportation if fans become comfortable with bus travel in the coming months. For prices and other details, refer to the TRIPS tab above.

For more information or to make a reservation, shoot us an email at info@capsroadcrew.com.

Fri, Nov 12-Columbus We have a nice block of seats in Section 122 but need a final headcount before opening night. Contact us asap if interested.

Sun, Nov 28-Carolina With lower bowl seats for $75 and a tailgate brunch on tap, this one is a beauty.

Fri, Dec 31-Detroit  After the cancelled March 2020 trip, we are delighted to head back to LCA.  NYE in Motor City anyone? (10 tix remaining)

Sat, Jan 15-NYI The Isles finally got their inventory together and the arena should still have that new rink smell for our visit. All tickets have been claimed but contact us asap to get on the waitlist as space becomes available.

Sat, Feb 26-Philadelphia We have a great block of lower bowl seats for only $80. More $$ for cheesesteaks!

Sat, April 9-Pittsburgh  We have the same great seats in Section 115 as last visit and at the same price, $220. But they took out Sid's dryer so that's a perk. 😉
Congratulations Tarik!
We are super excited to see a longtime local favorite will be making regular appearances as a contributor on Turner Sports' NHL coverage. While Tarik El-Bashir has an impressive resume with stints with The Washington Post, NBC Washington, and as current Caps beat reporter for The Athletic, we're pretty sure this interview is the one that sealed the deal:
Huge thanks to Ovie The Bulldog for the photo. Follow the fun on Twitter and Instagram @OvieTheBulldog.
New Voices of Service single
Local legend Caleb Green with his fellow active duty and retired service members perform in a quartet called Voices of Service to help raise awareness of the struggles returning veterans face and the power of music to heal them. They had a epic run on AGT which thrust them onto the national scene and now share their inspirational message at high-profile events and in recordings available online.
Their new release, "Coming Home", was recorded for the PGA (Helping Our Patriots Everywhere) Hope campaign and is available along with the rest of their catalog on the major audio streaming platforms.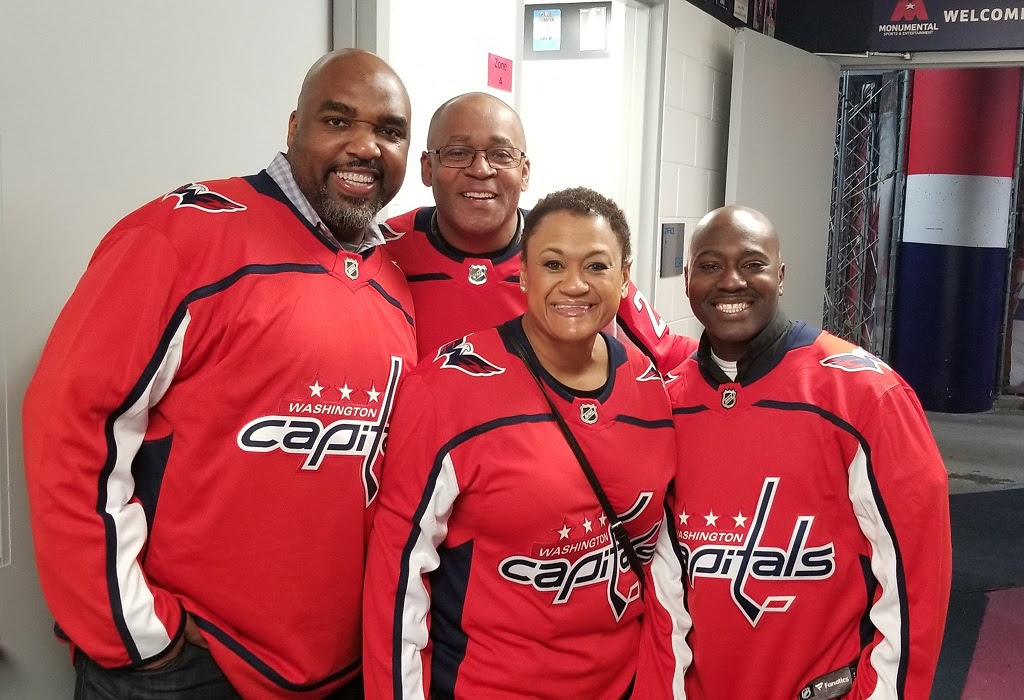 Keep your locale updates coming
We keep a list of Caps fans in enemy territory so if you live outside the DMV and want to be sure to be included on our activities in your area, shoot me an email with your zip code and I'll update our records. Even if none of the official trips this season are in your area, fans coordinate on unofficial trips and we'd love to include you on their plans.
See you at the rink!
GO CAPS!
Sherri