Need last minute holiday presents for your favorite Caps fans?  We gotcha covered and nothing makes a better gift for the fan on your list than a Caps Road Crew trip!  We have really cool gift certificates that we are happy to personalize for you to present to the recipient and you can't get easier than that. With space still available on this season's NYE trip to Detroit and April 9 trip to Pittsburgh, either would make a terrific present for your favorite die-hard Caps fan!
If you haven't purchased one yet, another perfect gift is Ben Raby's comprehensive book, "100 Things Capitals Fans Should Know & Do Before They Die", updated to include the Cup run.  With a foreword by Craig Laughlin, this book is packed with Caps lore and even long-time fans will find gems of insight yielded from Ben's exhaustive research.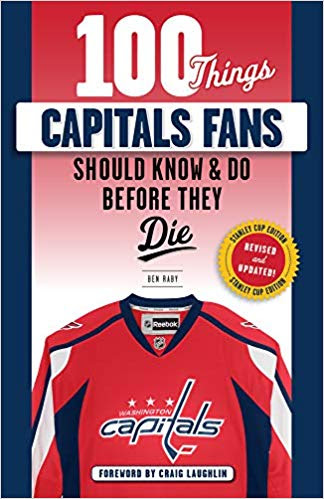 Wishing all you boys and girls and babes a safe and festive hockey holiday!  GO CAPS!