Down to the wire
Wow, where did the season go?  I can't believe we are down to our last few regular season games and only one away game left on our schedule.  That said, here's the skinny:
Sat, April 9-PittsburghWe have the same great seats in Section 115 as last visit and at the same price, $220.  With only 10 days to go, we need to hear from you asap if interested.
For more information or to make a reservation, shoot us an email at info@capsroadcrew.com.
Division tilt
The Flyers came out hot putting two on the board in the first when we visited on February 26. They hung on to win 2-1 but the Roadies had a great time in spite of the loss.  Such an exciting game!  Thank you to everyone who joined us.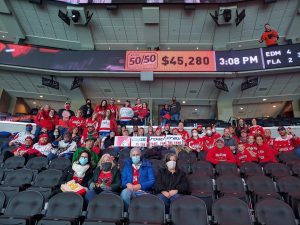 Keep your locale updates coming
We keep a list of Caps fans in enemy territory so if you live outside the DMV and want to be sure to be included on our activities in your area, shoot me an email with your zip code and I'll update our records. This is especially crucial if we end up with last-minute or extra tickets for a game near you.
GO CAPS!