Congratulations Mikey!
What a ride!
From the day we got to see Mike Green get drafted and throughout his time in DC, we were treated to not only a gifted player but also one of our favorite athletes to interact with. He truly appreciated the fan support he and the team received, both at home and by our Roadies at away games. As Mike announced his retirement last month, we look back with thanks for the great memories.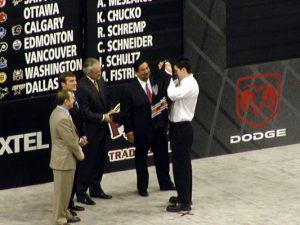 What a gift to be able to witness history in Tampa Bay on Valentine's Day 2009 as Mike set the record for most consecutive games with a goal by a defenseman. It's a record no player has come even close to matching in the 10+ seasons since. It was no surprise he did Caps Nation proud by being nominated for a Norris that season.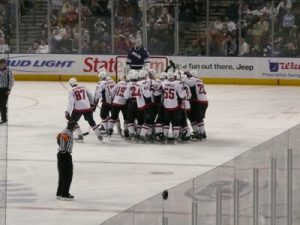 After being named Second Star in Philly in December that same year, for putting up two goals and two assists in an 8-2 shellacking of the home team, Mike not only took the ice when announced (kind of unheard of on the road), he skated over and saluted us Caps fans in attendance. What a beautician!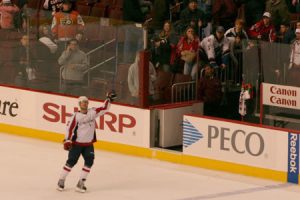 And while we never saw him wearing his player tee (looking at you Feds), Mike was one of the few players who was so enthusiastic about the fan support that he requested extras of his Gang Green threads. Stocking stuffers maybe?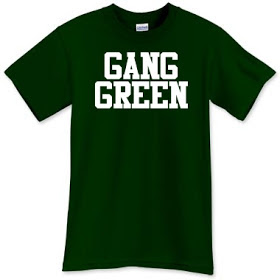 We wish Mike and his family health and happiness in the next chapter of their lives. Dare we hope for a Young Guns reunion on a future visit to DC?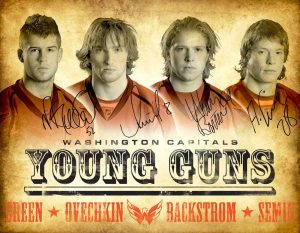 May newsletter
Check out the photos and recaps from all the great trips this past spring here!
Didn't get it the email?  Use the button above to sign up and have our news delivered hot and fresh right to your inbox of choice.
Detroit 3/28 trip on hold
In light of the news today that the NHL season is being "paused" until further notice, we are ceasing new reservations on the March 28 trip to Detroit. Those with existing reservations will be kept updated via email with news as it is known.
February News
Availability updates
It has been a whirlwind few weeks with NYI, Hershey, and NJ just since the new year. The list of our remaining destinations is up on our site so take a look and if you're interested in making a reservation or have questions, email us at info@capsroadcrew.com.
Here's a quick note about each one:
March 7 Pittsburgh It has been AGES since we've made the trek to Western PA so we're going all out!  We have good seats in Section 115 and with the bus, it comes in at $280. This one is currently sold out and accepting waitlist placement only at this time.
March 28 Detroit One of the hottest new arenas in the League, LCA is a treat for home and visiting fans alike.  We're delighted to have lower bowl seats in Section 104 for only $100.  We've recently scheduled a 90-minute guided tour of this amazing barn from 3-4:30 on game day, included in the price!  It's a rare opportunity we hope you'll take advantage of.
Feel free to contact us at info@capsroadcrew.com with questions about any of these trips or to get your reservation in alongside your fellow fans!
NYI recap
Wow, just wow!  From a festive if frigid tailgate brunch at The Coliseum to an amazing, historic, edge-of-your-seat game, the trip to Long Island in January was one for the ages. Thank you so much to all who braved the elements to join us!
More pics will be up on the site soon!    GO CAPS!
Answers to all Trivia Questions
Answers to Friday's trivia questions
Super easy question: On what street is our DC home? Penn Quarter Sports Tavern is located on Indiana Ave NW per our site: https://capsroadcrew.com/about-us/
Bonus question: How many busloads of fans did we transport to the 2011 Winter Classic in Pittsburgh? With over 400 fans in tow, it took an army of nine charter buses to get them all to Pittsburgh for the game.
Congratulations Ryan on getting the first question correct!  Thank you to everyone for your entries today and all week long!  This has been great fun and we look forward to doing it again.
Answers to Thursday's trivia questions
Easy question: What Caps opponent has appeared on the CRC schedule in three different venues? Pittsburgh Penguins at The Igloo, Heinz Field, and PPG Paints Arena.
Bonus question: In what city did our visit to their team's practice rink make their local TV news? We got Schmidt-faced in Las Vegas, NV.  Too fun!
Congratulations Kostas on getting both questions correct!  Thank you to everyone for your entries!
Answers to Wednesday's trivia questions
Super easy question: What is the nickname of our official Grillmeister? Sparky, per almost every Carolina tailgate on our site. Most recently: https://capsroadcrew.com/trips/carolina-december-28-2019/
Bonus question: What Caps player did we honor with a tee with the tagline "I Am Legend"? Sergei Fedorov
Congratulations CJ on getting the first question correct!  Thank you to everyone for your entries!
Answers to Tuesday's trivia questions
Easy question: What section did the CRC sit in at the 2004 NHL Entry Draft? Section 319 per the documentary embedded on our site
Bonus question: What film is the only one shown twice on the same bus trip? Right after it's release, the CRC watched "Goon" en route to Hershey.  And by demand, watched it again on the trip home. Doug! Doug! Doug!
Congratulations Brian on getting both correct!  Thank you to everyone for your entries!
Answers to Monday's trivia questions
Easy question: What are the first names of our co-founders? Jay and Glenn (https://capsroadcrew.com/about-us/#history)
Bonus Question: How many miles did the CRC travel in our first 10 years?  30,703 per our 10th Anniversary tee
Congratulations Jayson on getting both correct!  Thank you to everyone for your entries!
Countdown to 20 Years-Trivia!
This whole week we're having a Caps Road Crew 20th Anniversary trivia contest!  Check back daily M-F for one easy question (from our site) and one bonus question.  The prize pack for a correct answer to the easy one includes a 20th Anniversary CRC t-shirt and a pair of tickets to Caps Prom 2020, complete with the swag bag filled with cool stuff!  If you also answer the bonus question, the additional prize is a $25 gift card to Penn Quarter Sports Tavern.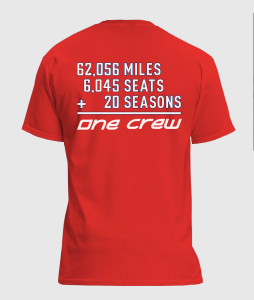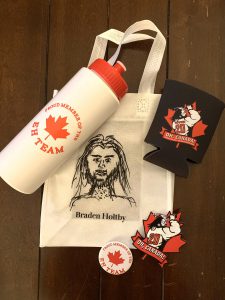 The first correct answer(s) emailed to info@capsroadcrew.com is the winner.  No answers can be submitted via text, social media, or carrier pigeon.
Good luck!
Our 2019-2020 trip dates are set!
With three bus trips, two tailgate parties, and a train trip on tap, this season is going to be a blast. Check out the trips section for all the skinny on the wheres and whens.
Has it been two decades already?
Our 20th season is here and we could not be more excited by what's on tap! If you are not already, be sure to sign up for the mailing list so you're first to get our news as it develops.
2018-2019 Photos are Done!
Photos from the 2018-2019 season are complete! Check out the trip archive to see all the photos from past seasons. Thank you to all the Roadies who joined us last year.