On the 10th Anniversary of the 2004 NHL Draft in Raleigh, North Carolina, fans who made the trip with the Caps Road Crew reflect on that historic day.
Thank you to all who shared your memories with us!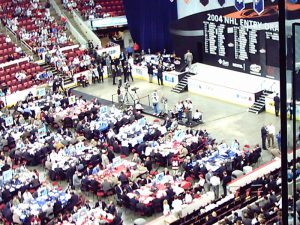 What I will always remember was how excited I was that the Caps picked Chris Bourque at the beginning of the second round and realizing that Ray might be at the after party – it had just been announced that he was being inducted into the Hall of Fame. People told me not to get my hopes up, that not all parents come to the draft. Well, he was there, and as "official CRC photographer," I had an excuse to talk to him to get a picture of father and son. After I took the picture, I shook his hand and said, "congratulations on Chris getting drafted," (knowing that everyone had been congratulating him on the HHOF news) and he kind of shrugged and said, "eh, that's what he wants." Not the answer I expected!!
So many more memories, I can't even begin to put them into words. I didn't hear it myself, but I've heard Sam tell the story about when he blew the horn, one of the Carolina fans turned and said "we can't get away from them" – at that time, our CRC trips pretty much took over that building – and then they won The Cup. . . . 🙁
Oh, and when Ovi waived to the group on his way off the stage – I think I got a picture of that.
10 years ago??? How the heck did that happen???
– Andrea N., our official photographer at the Draft Party
_____________________________________________________________________________
What a great trip that was. Not only meeting the draftees of the day but their families including the great HOF Ray Bourque. Also current (for that time) and former coaches, scouts and players like Ron Wilson and Dale Hunter, Rod Langway and of course Caps owner Ted Leonsis. Usually when you get a chance to talk to those types of people it's for a few seconds. But not that day. They were willing to talk for minutes with no sense of rushing you so they could do other things. It was a friendly day where everyone there felt like family. The biggest surprise to me was the food. I was expecting the typical finger foods. Crackers, cheese, chips and so on but Uncle Ted surprised me with shrimp skewers, steak skewers, sodas and a bar with bartender. All at no cost to us fans. What an owner Uncle Ted is when it comes to us.
-Art K.
_____________________________________________________________________________
This was a really special day. The buses got a little lost on the way to the arena, and we all dashed out of them before they could park (at about 11:50), afraid we were going to miss the first pick. We did make it (and cheered lustily for Ovechkin and all of the picks all day). To have Ovechkin wave to us was a nice reward.
I had gotten a Dynamo Ovechkin jersey, which I wore as soon as we drafted him. Ovechkin was clearly enjoying his new fame, and was GREAT about wandering around in the concourse and letting anyone who wanted it to take his picture or get his autograph. So, the new jersey is already autographed.
Spent time talking to his father (through a translator; he speaks no English, but got a kick out of the jersey) and a lot of time talking to his older brother (who, like Alexander, speaks English enough to have a decent conversation) at various times (Ovechkin's family all smoke and you could find them almost any time you wanted in the smoking area at the arena).
A small group of us (who, like everyone else, had moved down to the lower bowl as it emptied out) decided we liked Mike Green and started chanting (PICK MIKE GREEN!) and got a real kick out of them doing just that. Green told us at the after party he couldn't figure out who it was chanting for him before he was picked. He was a really nice kid–polite (he would shake people's hands who walked up to him and say "Hello. I'm Mike Green"–like we wouldn't have known that–and asked at one point if we thought he was allowed to eat at the after party). It is really something to meet these kids at this point in their hockey careers.
Meeting Ray Bourque was such an honor. He was at the after party with his son.
Calle (Johansson) was there, as was Dale Hunter, Ron Wilson, and Craig Berube. McPhee, Leonsis, and Dick Patrick were all milling around talking to everyone (and undoubtedly enjoying the new positive comments everyone had). It really was amazing of the Caps to invite 150 fans to their party for the draft picks (with free food and an open bar!). I think, in hindsight, the risks of that were probably significant. Not only was it a huge expense on their part (I plan some meetings for my job, and a shrimp is $5 through hotel catering), but it could have been awful for the players. Props to EVERYONE for sticking to the rules WE set. No asking for autographs or taking pictures during THEIR party (we had one designated picture taker!), so that they were able to enjoy their day despite a big crowd.
Time will tell whether this was a successful draft or not (and no one, no matter what they claim, can predict that), but it was an amazing, incredible day from start to finish that all of us will remember fondly for years to come.
I did talk to Ovechkin a couple of times. Nice guy, and just a little more confident than the other draft picks who were (as they are) kind of shy high schoolers just a little stunned by their good fortune. Ovechkin did have a good sense of humor (which comes through even with his limited English).
Green told us that he was really excited about playing for the Caps–and I actually believe him. He said he knew he'd probably have to spend at least a year in juniors, but he wanted to get to Washington as soon as he could.
Schultz was standing OUTSIDE when they started making the formal speeches in the reception room. When I told him he really should kind of push his way inside, he said he didn't want to interrupt or bother anyone. We finally REALLY encouraged his family to get him in there, but there was just this naivete to these kids that was amazing.
-Karen E.
_____________________________________________________________________________
My best recollection is meeting Alex Ovechkin for the first time… I was headed into the men's room, he was on his orange way out (he loved those "tans in a tube" and had one glowing for the draft)… as I congratulated him on being drafted 1st overall, the thought did flash through my mind "I sure hope he washed his hands…"
He was a courteous young man, and seemed thrilled by the fans in the rafters (better known as… THE ROAD CREW! ) calling for him before they called his name.
Great trip, fun time, and really good people! What a blast!
-Roger H.
_____________________________________________________________________________
After the first round of selections ended, Justin and I went outside so I could smoke (back when I still had that vice). While we were outside, we were approached by an elderly gentleman who asked us if we were from DC and why we came down to the draft. After telling him why we were there, and making some small talk, he said he had to rejoin his family, but before he left, he looked at Justin (who was wearing a Dale Hunter jersey) and said "nice jersey". Justin replied with "Thanks, he's my favorite player." The gentleman replied, "Mine too…he's my son." Needless to say, Justin and I looked at each other in awe and fell to our knees chanting "We're not worthy! We're not worthy!"
Sometime during the second round, Justin and I went to see if we could find seats near the stage in the lower bowl. We ended up about four or five rows from the floor even with the podium. Great seats. In between one of the picks, Bettman was standing at the podium (barely able to reach the microphone) and the noise level was relatively quiet. Justin took full advantage of the situation and yelled "Hey Bettman, why don't you do both leagues a favor and go back to the NBA!" Bettman looked a bit nervous and nodded at one of his security guys who came up into the section. After looking around a bit, he went toward Justin and asked him if he was the person who yelled. Justin nonchalantly said, "Nope, it was someone back there" pointing over his shoulder. The security guy looked around for a bit, and left.
As the day was winding down, Sam and I headed back to the bus which was parked as far away from the building as it could possibly be and still be in the parking lot. After getting to the bus, we found it locked with the driver nowhere to be found. So we spent our time throwing rocks at metal barrels on the other side of the fence. Yes, it really is the simple pleasures in life… (ed. note: there's footage of Sam and Dave doing this at the 6:13 mark of the Burning Toast documentary, "The Pick.")
-Dave P.
_____________________________________________________________________________
My biggest recollection was the pure excitement at the prospect of selecting such a phenomenal player, and conversations about it all the way down on the bus. One of the fun discussion topics was "watch GMGM screw this one up" and select someone else. The bus was a little late (for whatever reason), and I recall we eventually just told the bus driver to let us off and we all made a break for the arena across the parking lot. The entire first level was filled, so a few people had the idea to run to the upper deck and as a group we all managed to find a corner just to the right of the stage. We made it with a few minutes to spare, and to announce our arrival all started the "Let's Go Caps" chant. Of course that garnered a ton of stares and murmurs from people around the arena, probably wondering how they ended up at the Phone Booth. It was less than 10 minute later that GMGM selected Ovi, and as GMGM was announced to make the selection, we started chanting Ovi's name. It was very surreal.
Admittedly after Ovi was selected and we made our jubilation known, the rest of it was sort of anticlimactic. We had several picks in the first round, so stayed for those and cheered each of the selections as they walked from the stage to under the arena. All of them acknowledged the reception they received which was awesome. Later there was the team party that the Caps had invited the CRC to attend where we were able to meet Ovechkin and a few of the other selectees. Ovi was such young puppy at that time, and so darn adorable in a way that only Russians can be. His English was non-existent so he sort of just smiled and shook hands. The majority of the trip was a blur, but that rush from the bus to Ovi's selection is still very clear, as was the excitement and the dreams of what the future held for this team. Still dreaming….
-Suzanne B.
_____________________________________________________________________________
Ten years ago this month, I took my first trip with the Caps Road Crew, a group collectively even more fanatic than me, to Raleigh, NC, home of the Carolina Hurricanes. Between the Road Crew and the Capitals Fan Club, more than five buses of fans (more perhaps) went to the draft.
The lower bowl of the arena was reserved for Hurricane season ticket holders, fans of other clubs were upstairs. While the ratio of Hurricane fans to Capitals fans was 100's to 1, there was no question that we were by far the louder, supplemented by the many (many) horns present. Those plus our shouting every time the name Ovechkin was mentioned on the floor got the attention of the staff below us.
I remember an interview with George McPhee, the Caps General Manager, where he said it was the loudest he had ever heard a hockey crowd outside of a game when a goal scored.
When Ovechkin was finally drafted and walked off the floor I remember him waving at us as he passed underneath the stands. After the draft, Ted Leonsis held a reception for Ovechkin and all of the other drafted players and invited everyone who had come down to the draft, which was a really nice gesture. I remember getting to meet all of the players and being able to meet Ovechkin's father as well as Ray Bourque, a true hockey legend, since we had also drafted his diminutive son, Chris.
During the day it was really exciting to meet many hockey players and staff who we otherwise would have had little chance to get to talk to. I was able to spend time with one of my favorite Capitals former coaches, Ron Wilson, who was kind enough to put up with many, many questions I had about what it was like to coach a hockey team. It turned out he lived off-season in Hilton Head, SC, where my wife's parents lived, and still are, and in fact where we will be going to visit later this month.
Of course, thanks to the lockout we were not able to see Ovechkin's first game until the 2005-06 season.
-Daniel M., excerpted with permission from his blog, www.ourownlittlecorner.com
_____________________________________________________________________________
What I remember from the draft trip was not long after we had drafted Alex my son and I went out on the concourse to get something to eat and there was Alex walking along in his Caps jersey and Caps hat with the biggest smile I'd ever seen, he had teeth back then. 🙂 We were in full Caps gear and soon as he saw us he stopped and said hi, shook our hands and even took a picture with us…none of which we prompted. It was such an awesome experience.
Also, because we had all come down in support, Ted invited all of us to the draft party that they were having for the draftees and families. That was an unbelievable experience and one my son and I would never had been a part of without being members of the Road Crew.
The whole trip was just very memorable.
Thanks Caps Road Crew !
-Johanna H.
_____________________________________________________________________________
What do I remember?
First the buses getting to Raleigh late and in order to get into the arena on time to see Ovi drafted – we had to jump off the buses and run pell-mell across the parking lots as the queue to unload buses was very long. Then there were no decent seats with a view of the stage remaining so many of us stood in aisles on upper level to watch GMGM select Ovi. (Thank heavens that was before they installed the magnetometers)
Second was being near the entrance door of the party room, talking to a few amateur scouts, when Ovi and his parents walked in the room. Everyone near the door just stopped talking and stared, even the scouts. So I walked up, stuck out my hand and said "Welcome to the Caps". Ovi shook my hand and that was the last time, except for the reception line, that I could get anywhere near him the rest of the event. So I spent time talking to [Mike] Green and his mom and sis and taking a very delayed Sami Lepisto under my wing to find him food and drink, and introduce him around (he arrived after the reception line).
-Vicki S.
_____________________________________________________________________________
I remember in the morning having mixed emotions about the day, because many of us were already convinced that the NHL would lockout the players and we'd lose at least part of the 2004-05 season. But those bad vibes washed away as soon as we were on the road to Raleigh. There were so many good people on the buses, good hockey fans, and their joviality was infectious.
I had designed commemorative t-shirts for the trip and a lot of us wore them into the arena. I remember sitting upstairs almost behind the dais, with the Washington Capitals' table front and center. When Bettman announced that the Caps would be making the first pick, our group erupted into a "LET'S GO CAPS" chant, led by my horn and Goat's voice.
As soon as George McPhee made the pick, we erupted again, chanting "O-VECH-KIN" as loud as we could, and he noticed. He even waved to us on his way to the stage!
The rest of the actual day is a blur of memories. There were the little kids playing street hockey outside, a Playstation truck showcasing their NHL game, and fans from all over the league milling about and getting along well.
The party at the hotel later was like a dream. Seeing Pat Quinn at the bar outside the reception room with other VIPs from the league didn't feel real.
Inside the room it was very casual and relaxed. The spread was amazing, with tons of delicious snacks. I vividly remember Ovi stuffing his face with as much fresh cut cantaloupe as he could. I imagined that would be hard to come by in Russia. He was gracious and friendly, while his parents and brother spent most of their time out on the patio, smoking like chimneys.
Smokin' Al Koken played MC and introduced the draftees to the crowd. Leonsis thanked us all for joining them. It was an unforgettable day!
-Sam W. (The Horn Guy)
Have you taken a hockey-related trip that you would like to share with your fellow Caps fans? Send an email to info@capsroadcrew.com and your story may be included in our Reports from the Road!
The opinions expressed in this "Report from the Road" are those of the author(s) and do not reflect those of the Caps Road Crew.