The first trip of our 20th season was a fun one. A bus of Roadies made the trip to Raleigh, where we met up with Herr Grillmeister, Sparky, and fellow longtime Roadie, Bert, who had begun prepping the site with lit fires and erected tents. After a barbecue tailgate with cornhole and street hockey, we marched into the location of the very first CRC bus trip back in October of 2000! The Caps battled late, but the home team felt the Storm Surge that night, with a 6-4 triumph over the DC boys.
More photos coming soon!
Photos From the Trip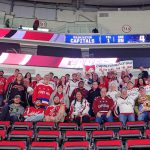 If you have some photos from this trip and would like to share them with the world, send an email at info@capsroadcrew.com and we'll let you know the best way to get them to us!
---
Trip Itinerary
The Caps Road Crew will be heading south down I-95 by bus, making a long overdue trek to the PNC Arena in Raleigh, North Carolina, to see the Caps take on the division rival Carolina Hurricanes on Saturday, December 28, 2019 at 7pm. So let's dust off the tailgating gear, fuel up the buses, and show 'em how WE rock the red!
The CRC has made arrangements for bus transportation and lower bowl group seats. We also have plenty of extra tickets for the local fans or those who wish to make their own way to the game; these tickets will be $100. If you would like to claim some of these extra tickets, please email us ASAP at info@capsroadcrew.com and specify number of seats/tickets needed.
Current plans: The Crew will meet at Springfield Metro (in Virginia) at 10:30am and the bus will depart promptly at 10:45 so we can arrive in Carolina in time to join the local Caps fans for some tailgating! We expect to get to the arena in Raleigh by approximately 3pm, enjoy a few hours of food, fun, and street hockey, and have plenty of time to catch warmups before the 7pm game.
The bus will be returning home immediately following the game with an expected arrival back in Springfield around 2am. Parking is available at the Metro station however trains will have stopped running before our return. We are happy to assist with carpooling for those who need it.
The cost for the trip will be $170 per person, which includes your lower bowl game ticket and bus transportation. No extra fees or money over the cost of the bus and game tickets will be charged. You may bring your own food and drink on the bus (coolers will be provided for your convenience). There is no smoking/vaping allowed on the bus but time permitting, we may make a stop on the way. The bus is equipped with a restroom, electric outlets, free WiFi, and video/TV units.
Please get your reservation in ASAP to guarantee your spot on the CRC bus! A reservation should be considered a firm commitment as it will be used to finalize others' reservations. We will have space and tickets available for 70 people. To reserve your spot on the bus, or for more information, please e-mail info@capsroadcrew.com. (Please specify number of seats/tickets needed.) All inquiries are responded to in the order they are received.
— All available spaces are currently claimed. New inquiries will be for the waitlist. —