Another successful bus trip only to experience a heartbreaking overtime loss to the eventual Stanley Cup Champions…
Photos From the Trip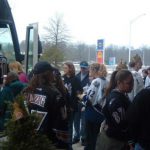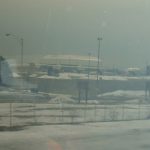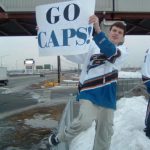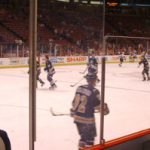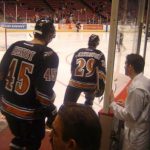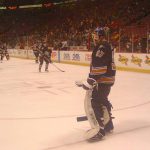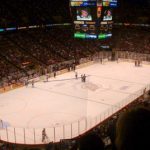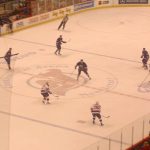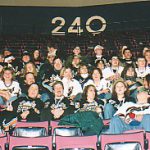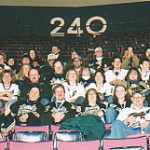 If you have some photos from this trip and would like to share them with the world, send an email at info@capsroadcrew.com and we'll let you know the best way to get them to us!
---
Trip Itinerary
The Caps Road Crew will be hitting the road by bus traveling to Continental Airlines Arena in East Rutherford, New Jersey, to see the Caps take on their Eastern Conference rivals, the New Jersey Devils. This is a late season matchup of premiere goalies (our own Olie Kolzig vs. Martin Brodeur) and superstar skaters, including the Caps' Peter Bondra and Jaromir Jagr, and the Devils' Scott Stevens, a former Caps captain.
The CRC will make arrangements for bus transportation and group tickets. Unfortunately, due to the great demand for tickets to this game, we will not be able to provide tickets to those who do not travel on the bus with the Crew.
Current plans: The Crew will be meeting at Springfield Mall (just off I-95 in Springfield, VA) at 12:30 pm on March 1; the bus will depart at 1:00 pm sharp. We'll make a stop at Forest Glen metro station (just off the beltway in Maryland at Georgia Ave.) at 1:30 pm to pick up those in Maryland and the bus will depart at 2:00 pm sharp. We'll arrive in the Meadowland Sports Complex around 6:00 pm, in time to head inside and catch warmups before the 7:30 pm drop of the puck. The Crew bus will be returning to the D.C. area immediately following the game (expected arrival back in D.C. by 3:00 am). The cost of the trip is $75 per person (includes ticket and transportation costs). No extra fees or money over the cost of the bus and game tickets will be charged. You may bring your own food and drink on the bus (coolers will be provided for your convenience). There is no smoking allowed on the bus and time constraints will most likely prevent us from making any stops on the way. The bus is equipped with a restroom and video/TV units.
Ticket arrangements have been made and reservations are filling up fast. Please get your reservation in ASAP to guarantee your spot on the CRC Bus! A reservation should be considered a firm commitment as it will be used to finalize the group ticket purchase. Approximately 45 spaces are available. Full payment will be due by January 15, 2003.