Our first trip of the season took a small group of Caps fans up to the City of Brotherly Shove for an evening meeting with the Flyers. The scoring started late in the 1st with a top corner goal by Nicklas Backstrom and the visitors never let up. The final score of 7-0 by the Caps proved to be the worst drubbing the Flyers had endured at home in several decades, making for a fun trip for our intrepid Roadies!
Photos From the Trip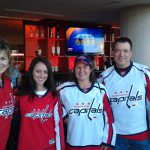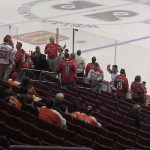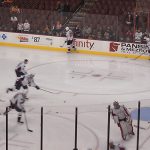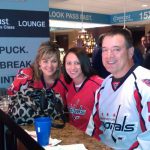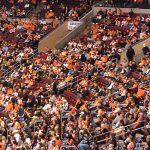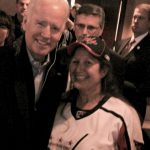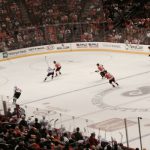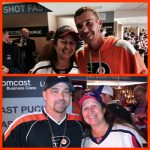 If you have some photos from this trip and would like to share them with the world, send an email at info@capsroadcrew.com and we'll let you know the best way to get them to us!
---
Trip Itinerary
The Caps Road Crew will be traveling to Philadelphia, PA for a Friday evening match at the Wells Fargo Center.
We will be heading up I-95 to Wells Fargo Center to cheer on the Caps as they take on our new divisional opponent, the Flyers, at 7:00 pm. We have acquired club level suite seats for this game (the same we've had in recent seasons) and with the Flyers treating us to an open bar and buffet, tailgating will not be necessary.
Current plans: Guests are welcome to enter the suite at 5:30 for some pregame beverages before meeting up at warmups at 6:00 pm. The puck drops at 7:00 pm. The cost of the trip is $190 per person for a seat in the all-inclusive suite. No extra fees or money over the cost of the game ticket will be charged. Tickets will only be available via will-call at Wells Fargo Center.
Please get your reservation and payment in by Wed, Oct 30th to guarantee your spot alongside the other Caps fans who are making the trip. The seats are excellent, so the drive will be worth it. For payment information and further details on this trip, please e-mail info@capsroadcrew.com and include the trip destination in the subject line. Full payment will be due at the time of reservation. (Please specify number of seats/tickets needed.)